Gry na PS5 i PS4 w promocji. Sony przecenia "blockbustery" – 555 produkcji od 57 groszy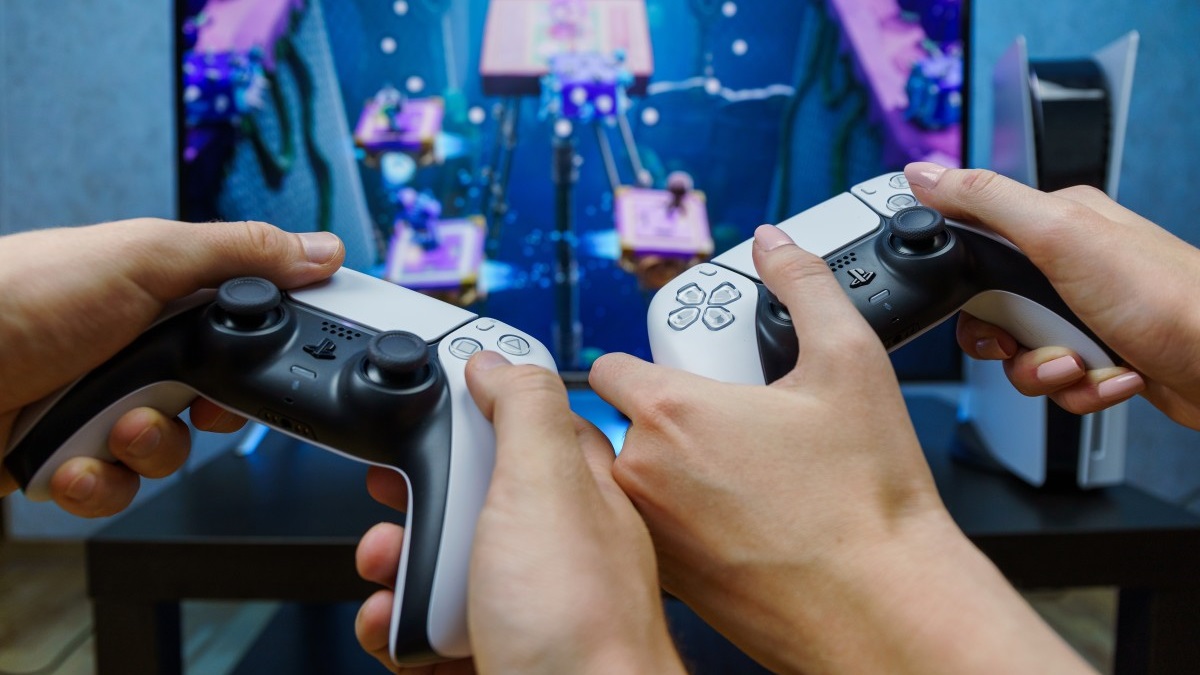 Na PlayStation Store uruchomiona została następna promocja w tym miesiącu. Sony w ostatnich tygodniach systematycznie zaprasza graczy do kupowania gier za mniejsze pieniądze, a nowa oferta może skłonić łowców przecen do uzupełnienia cyfrowej biblioteki.
Sony nie daje odetchnąć graczom preferującym konsole PlayStation. W nocy zapowiedziano szereg obiecujących produkcji z okazji State of Play, jednocześnie społeczność może sięgnąć po wydane już tytuły i skorzystać ze świeżutkiej wyprzedaży. Wśród przecenionych pozycji znajdziemy tak popularne IP jak Battlefield, Diablo, Metal Gear Solid,  Street Fighter, Ghost of Tsushima, Far Cry, Crash, Skyrim czy Metro - jest więc w czym wybierać.
Wiedźmin 3: Dziki Gon jest już dostępny za 39,80 zł – w ramach wydania GOTY otrzymujemy podstawkę ze wszystkimi przygotowanymi dodatkami. Natomiast jeśli zdecydujecie się sięgnąć wyłącznie po podstawową wersję przygody Geralta, to zapłacicie 25,80 zł. Street Fighter V jest dostępny za zaledwie 19,75 zł, a Ark: Survival Evolved kosztuje 29,37 zł.
Gry na PS5 i PS4 w promocji:
13 Sentinels: Aegis Rim PS4 - 103,60 zł
3D Billiards – Pool & Snooker PS4 - 62,30 zł
3D Billiards – Pool & Snooker PS5 - 76,30 zł
3D MiniGolf PS4 - 62,30 zł
3D MiniGolf PS5 - 76,30 zł
9 Monkeys of Shaolin PS4 - 17,80 zł
A Gummy's Life PS5 - 62,30 zł
A Way Out PS4 - 31,00 zł
Actraiser Renaissance PS4 - 93,80 zł
Aegis of Earth: Protonovus Assault PS4 - 22,25 zł
Aery – Dreamscape PS4 - 32,40 zł
Aery – Little Bird Adventure PS4 - 29,40 zł
Agents of Mayhem PS4 - 11,85 zł
Aggelos PS4 - 14,75 zł
Akiba's Beat PS4 - 22,25 zł
AKIBA'S TRIP: Undead & Undressed PS4 - 22,35 zł
Albedo: Eyes From Outer Space PS4 - 9,45 zł
Alex Kidd in Miracle World DX PS5 - 27,65 zł
Alien Shooter PS4 - 13,20 zł
Alphadia Genesis 2 PS5 - 41,40 zł
Alphadia Genesis PS5 - 37,80 zł
Ancestors: The Humankind Odyssey PS4 - 67,60 zł
ANNO: Mutationem PS4 & PS5 - 64,35 zł
Anthem™ PS4 - 28,90 zł
AO Tennis 2 PS4 - 57,25 zł
Arc of Alchemist PS4 - 27,25 zł
Arcade Spirits PS4 - 31,15 zł
Arcade Spirits: The New Challengers PS4 - 71,20 zł
Arcade Spirits: The New Challengers PS5 - 71,20 zł
ARK: Survival Evolved PS4 - 29,37 zł
ART OF FIGHTING ANTHOLOGY PS4 - 15,75 zł
art of rally PS4 - 56,40 zł
art of rally PS5 - 56,40 zł
Asdivine Hearts II PS4 - 34,50 zł
Ash of Gods: Redemption PS4 - 17,80 zł
Assassin's Creed Valhalla Deluxe PS4 & PS5 - 122,06 zł
Assassin's Creed® Valhalla + Watch Dogs®: Legion Bundle PS5 - 177,87 zł
ASSAULT GUNNERS HD EDITION PS4 - 22,50 zł
Assetto Corsa Competizione PS4 - 57,46 zł
Assetto Corsa PS4 - 24,80 zł
Assetto Corsa Ultimate Edition PS4 - 33,80 zł
ASTRO BOT Rescue Mission™ PS4 - 84,50 zł
Atelier Ryza 2: Lost Legends & the Secret Fairy PS4 & PS5 - 129,50 zł
Atelier Ryza 2: Lost Legends & the Secret Fairy Ultimate Edition PS5 - 224,50 zł
Atelier Ryza: Ever Darkness & the Secret Hideout PS4 - 129,50 zł
Attractio PS4 - 12,60 zł
Autumn's Journey PS4 - 4,50 zł
Azur Lane: Crosswave PS4 - 51,60 zł
Azure Striker Gunvolt: Striker Pack PS4 - 74,50 zł
Back 4 Blood: Standard Edition PS4 & PS5 - 119,60 zł
BALAN WONDERWORLD PS4 & PS5 - 50,70 zł
Balancelot PS4 - 7,20 zł
Battle Worlds: Kronos PS4 - 15,80 zł
Battlefield 4™ PS4 - 27,65 zł
Battlefield™ 1 PS4 - 27,65 zł
Battlefield™ 2042 Gold Edition PS4™ & PS5™ - 292,43 zł
Battlefield™ 2042 Ultimate Edition PS4™ & PS5™ - 357,43 zł
Battlefield™ V PS4 - 33,80 zł
Beach Buggy Racing 2: Island Adventure PS4 - 42,00 zł
Beautiful Desolation PS4 - 8,90 zł
Before We Leave PS5 - 40,50 zł
BioShock 2 Remastered PS4 - 31,60 zł
BioShock Infinite: The Complete Edition PS4 - 31,60 zł
BioShock Remastered PS4 - 31,60 zł
Bird Game + PS4 - 4,50 zł
Birthday of Midnight PS4 - 6,30 zł
Birthdays the Beginning PS4 - 33,80 zł
Blair Witch PS4 - 37,20 zł
Blair Witch VR PS4 - 81,25 zł
Blasphemous PS4 - 26,00 zł
BLAZBLUE CENTRALFICTION PS4 - 45,80 zł
BlazBlue Chronophantasma Extend PS4 - 44,50 zł
BLAZBLUE CROSS TAG BATTLE PS4 - 39,50 zł
Blaze and the Monster Machines: Axle City Racers PS4 - 101,40 zł
BlazeRush PS4 - 11,25 zł
Blind Postman PS4 - 12,60 zł
Blood & Truth™ PS4 - 84,50 zł
Bloodborne™: Game of the Year Edition PS4 - 72,50 zł
Borderlands 2 VR PS4 - 91,60 zł
Borderlands 3 Next Level Bundle PS4™ & PS5™ - 92,70 zł
Borderlands 3: Ultimate Edition PS4™ & PS5™ - 167,60 zł
Borderlands: The Handsome Collection PS4 - 42,25 zł
Bounty Battle PS4 - 19,80 zł
Buildings Have Feelings Too! PS4 - 16,80 zł
Buried Stars PS4 - 79,60 zł
Call of Cthulhu® PS4 - 23,70 zł
Candle: The Power of the Flame PS4 - 15,80 zł
Capcom Fighting Collection PS4 - 134,25 zł
Carnival Games® PS4 - 42,25 zł
Carnival Games® VR PS4 - 22,25 zł
Cast of the Seven Godsends – Redux PS4 - 5,80 zł
Castle Pals PS4 - 4,50 zł
Castlevania Advance Collection PS4 - 62,30 zł
Cat Quest II PS4 - 15,75 zł
Cat Quest PS4 - 12,75 zł
CHAOSCHILD PS4 - 25,80 zł
Chess Knights: Shinobi PS4 - 5,40 zł
Chess Knights: Viking Lands PS4 - 5,40 zł
Children of Zodiarcs PS4 - 22,50 zł
Chorus PS5 - 50,70 zł
Chroma Quaternion PS5 - 41,40 zł
Chronos: Before the Ashes PS4 - 43,40 zł
Cladun Returns: This Is Sengoku! PS4 - 22,25 zł
Cloudpunk PS5 65,40 zł
ConnecTank PS4 - 51,60 zł
CONTRA: ROGUE CORPS PS4 - 33,80 zł
COTTOn 2 – Saturn Tribute PS4 - 55,20 zł
COTTOn Boomerang – Saturn Tribute PS4 - 55,20 zł
Crash Bandicoot™ 4: It's About Time PS5 - 144,50 zł
Crash Bandicoot™ N. Sane Trilogy PS4 - 84,50 zł
Crash™ Team Racing Nitro-Fueled PS4 - 67,60 zł
Crysis 2 Remastered PS4 - 75,00 zł
Crysis 3 Remastered PS4 - 74,40 zł
Curse of the Dead Gods PS4 - 33,60 zł
Cyberdimension Neptunia: 4 Goddesses Online PS4 - 37,20 zł
DC League of Super-Pets: The Adventures of Krypto and Ace PS4 - 126,75 zł
DEAD OR SCHOOL PS4 - 38,70 zł
DEAD RISING 2 Off The Record PS4 - 25,20 zł
DEAD RISING 2 PS4 - 23,70 zł
DEAD RISING PS4 - 23,70 zł
Deadlight: Director's Cut PS4 - 11,80 zł
Death end re;Quest 2 PS4 - 45,15 zł
DEATH STRANDING DIRECTOR'S CUT PS5 - 153,30 zł
DEATHRUN TV PS5 - 34,50 zł
DEEMO -Reborn- PS4 - 71,60 zł
Defense Grid 2 PS4 - 15,00 zł
Demetrios the BIG Cynical Adventure REPLASTERED PS5 - 13,50 zł
Demon Gaze II PS4 - 43,80 zł
Demon Slayer -Kimetsu no Yaiba- The Hinokami Chronicles PS4 & PS5 - 167,40 zł
Demon's Tier+ PS5 - 18,00 zł
Diablo® II: Resurrected™ PS5 - 89,99 zł
Diablo® Prime Evil Collection PS5 - 134,99 zł
Diablo® Prime Evil Upgrade PS5 - 113,99 zł
DIRT 5 Year One Edition PS4 & PS5 - 113,70 zł
Disaster Report 4: Summer Memories PS4 - 103,60 zł
Disco Cannon Airlines PS4 - 3,15 zł
Disgaea 1 Complete PS4 - 83,60 zł
DISGAEA 5: ALLIANCE OF VENGEANCE PS4 - 64,50 zł
Disney Classic Games: Aladdin and The Lion King PS4 - 54,50 zł
Donuts'n'Justice PS4 & PS5 - 6,30 zł
DOOM Eternal Deluxe Edition – PS4 & PS5 - 98,67 zł
DOOM Eternal: Year One Pass (Standalone) PS5 - 67,00 zł
Dracula's Legacy PS4 - 55,30 zł
Dracula's Legacy Remastered PS5 - 76,30 zł
Dragon Blaze PS4 - 32,00 zł
DRAGON QUEST BUILDERS™ PS4 - 155,40 zł
DRAGON QUEST XI S: Echoes of an Elusive Age – Definitive Edition PS4 - 109,85 zł
DragonRideVR PS4 - 15,00 zł
Dreaming Sarah PS4 & PS5 - 6,30 zł
Dreams™ PS4 - 67,60 zł
DreamWorks Dragons Dawn of New Riders PS4 - 45,15 zł
DUNGEON ENCOUNTERS PS4 - 62,50 zł
Dusk Diver PS4 - 37,25 zł
Dying Light 2 Stay Human – Ultimate Edition PS4&PS5 - 335,20 zł
Dying Light 2 Stay Human PS4&PS5 - 161,40 zł
DYNASTY WARRIORS 8: Xtreme Legends Complete Edition PS4 - 55,30 zł
DYNASTY WARRIORS 9 PS4 - 55,30 zł
DYSMANTLE PS5 - 59,63 zł
Earth Defense Force 4.1: The Shadow of New Despair PS4 - 15,80 zł
EARTH DEFENSE FORCE 5 PS4 - 91,60 zł
EARTH DEFENSE FORCE: IRON RAIN PS4 - 67,25 zł
Element Space PS4 - 68,40 zł
Empire of Angels IV PS4 - 44,50 zł
Empire of Angels IV PS5 - 4,50 zł
End Space PS4 - 17,80 zł
EVERSPACE™ – Original Soundtrack PS4 - 9,60 zł
EVERSPACE™ PS4 - 18,60 zł
Far Cry Primal PS4 - 39,56 zł
Far Cry® New Dawn PS4 - 47,47 zł
Fast & Furious: Spy Racers Rise of SH1FT3R PS5 - 101,40 zł
FATAL FURY™ BATTLE ARCHIVES VOL.2 PS4 - 12,60 zł
Fate/EXTELLA LINK PS4 - 109,50 zł
FIA European Truck Racing Championship PS4 - 19,35 zł
FINAL FANTASY CRYSTAL CHRONICLES Remastered Edition PS4 - 53,60 zł
FINAL FANTASY VII REMAKE INTERGRADE Digital Deluxe Edition PS5 - 287,43 zł
FINAL FANTASY VII REMAKE INTERGRADE PS5 - 193,23 zł
FINAL FANTASY VII REMAKE PS4 - 149,50 zł
FINAL FANTASY XII THE ZODIAC AGE PS4 - 104,50 zł
FINAL FANTASY XV POCKET EDITION HD PS4 - 50,00 zł
Flatout Pixel Racing PS4 - 17,62 zł
Fort Triumph PS4 - 44,50 zł
Frane: Dragons' Odyssey PS4 - 34,50 zł
Freddy Spaghetti PS4 & PS5 - 6,75 zł
G.I. Joe: Operation Blackout PS4 - 42,25 zł
Gal*Gun 2 PS4 - 42,57 zł
Gal*Gun: Double Peace PS4 - 17,80 zł
Gearshifters PS4 - 49,50 zł
Get Even PS4 - 18,60 zł
Ghost of Tsushima DIRECTOR'S CUT PS5 - 233,91 zł
Ghostrunner PS4 - 51,60 zł
Ghostrunner: Complete Edition PS5 - 143,20 zł
Ghostwire: Tokyo Deluxe Edition PS5 - 194,50 zł
Gnomes Garden 3: The thief of castles PS4 - 8,00 zł
Gnomes Garden: New home PS4 - 8,00 zł
Godfall Challenger Edition PS5 & PS4 - 34,50 zł
Gods Will Fall PS4 - 17,25 zł
Golf Club Wasteland PS4 - 9,00 zł
Gran Turismo™ 7 PS5 - 254,25 zł
Grand Kingdom PS4 - 57,25 zł
Grand Theft Auto Online (PlayStation®5) PS5 - 44,50 zł
Grand Theft Auto V (PS4™ & PS5™) - 92,07 zł
Grave Danger PS4 - 23,46 zł
Gravel PS4 - 12,90 zł
Greak: Memories of Azur PS5 - 35,60 zł
GRID Legends PS4 & PS5 - 119,60 zł
GRID Legends PS4 & PS5 - 119,60 zł
Grow: Song of the Evertree PS4 - 76,38 zł
Guardian Force – Saturn Tribute PS4 - 55,20 zł
Guardian of Lore PS5 - 28,35 zł
GUILTY GEAR PS4 - 22,50 zł
GUILTY GEAR Xrd -REVELATOR- PS4 - 44,50 zł
GUILTY GEAR Xrd Rev.2 PS4 - 33,80 zł
GUNBARICH PS4 - 32,00 zł
GUNBIRD 2 PS4 - 32,00 zł
GUNBIRD PS4 - 32,00 zł
Harvest Moon®: A Wonderful Life Special Edition PS4 - 25,20 zł
Harvest Moon®: Save the Homeland PS4 - 25,20 zł
Hatsune Miku: Project DIVA X PS4 - 94,50 zł
Hell Let Loose PS5 - 118,30 zł
Henchman Story PS5 - 44,85 zł
HITMAN 3 – Standard Edition PS5 - 115,60 zł
Hob PS4 - 44,50 zł
HoPiKo PS4 - 5,80 zł
Hotel Transylvania: Scary-Tale Adventures PS5 - 118,30 zł
Hotel Transylvania: Scary-Tale Adventures PS5 - 118,30 zł
How to Survive 2 PS4 - 15,75 zł
How to Survive: Storm Warning Edition PS4 - 21,00 zł
Human: Fall Flat PS4 & PS5 - 26,70 zł
Human: Fall Flat PS5 - 26,70 zł
I am Setsuna PS4 - 71,60 zł
Inertial Drift PS4 - 35,55 zł
Infinite Links PS5 - 51,75 zł
INSTANT SPORTS All-Stars PS4 - 91,20 zł
Insurgency: Sandstorm PS4 - 101,40 zł
Into A Dream PS4 - 20,30 zł
Is It Wrong to Try to Pick Up Girls in a Dungeon? Familia Myth Infinite Combate PS4 - 50,70 zł
Jagged Alliance: Rage! PS4 - 49,60 zł
Kandagawa Jet Girls PS4 - 53,70 zł
Kerbal Space Program Enhanced Edition Complete PS5 - 121,05 zł
KILL la KILL – IF PS4 - 39,50 zł
Kingdom Come: Deliverance Royal Edition PS4 - 33,80 zł
KINGDOM HEARTS Melody of Memory PS4 - 129,50 zł
Kingdoms of Amalur: Re-Reckoning PS4 - 50,70 zł
Kitaria Fables PS5 - 44,50 zł
Kitaria Fables PS5 - 57,00 zł
Knight's Retreat PS4 - 3,60 zł
Knightin'+ PS5 - 5,40 zł
Kotodama: The 7 Mysteries of Fujisawa PS4 - 27,25 zł
KOWLOON HIGHSCHOOL CHRONICLE PS4 - 62,30 zł
L.A. Noire: The VR Case Files PS4 - 62,50 zł
LA Cops PS4 - 11,60 zł
Labyrinth of Refrain: Coven of Dusk PS4 - 76,65 zł
Lady in a Leotard With a Gun PS4 - 1,12 zł
Langrisser I & II PS4 - 66,15 zł
Legend of the Tetrarchs PS4 - 31,50 zł
Legends of Ethernal PS4 - 35,60 zł
LEGO® CITY Undercover PS4 - 49,80 zł
LEGO® Marvel Super Heroes 2 PS4 - 49,80 zł
LEGO® Marvel's Avengers PS4 - 42,25 zł
LEGO® NINJAGO® Movie Video Game PS4 - 51,80 zł
LEGO® Star Wars™: The Skywalker Saga PS4 & PS5 - 181,30 zł
Let's Sing 2020 PS4 - 92,95 zł
Let's Sing 2021 PS4 - 92,95 zł
Let's Sing 2022 PS5 - 107,40 zł
Lethal VR PS4 - 12,60 zł
Liege Dragon PS5 - 41,40 zł
Life is Strange: True Colors – Ultimate Edition PS4 & PS5 - 213,85 zł
Life is Strange: True Colors PS4 & PS5 - 124,50 zł
Life of Fly PS4 - 37,80 zł
Little Big Workshop PS4 - 58,80 zł
Little Nightmares II Deluxe Edition PS4 & PS5 - 67,60 zł
Livelock PS4 - 24,50 zł
Loot Hero DX PS4 - 4,20 zł
Lost Artifacts PS4 - 14,40 zł
Lost Judgment Digital Ultimate Edition PS4 & PS5 - 184,05 zł
Lost Judgment PS4 & PS5 - 125,55 zł
MAGLAM LORD PS4 - 118,30 zł
Marvel's Avengers PS5 - 83,60 zł
Marvel's Guardians of the Galaxy + Marvel's Avengers PS4 & PS5 - 171,60 zł
Marvel's Guardians of the Galaxy PS4 & PS5 - 144,50 zł
Marvel's Iron Man VR PS4 - 84,50 zł
Maskmaker PS4 - 22,25 zł
Mass Effect™ Legendary Edition PS4 - 119,96 zł
Megadimension Neptunia VII PS4 - 23,70 zł
Metal Gear Solid V: Ground Zeroes PS4 - 17,80 zł
Metal Gear Solid V: The Phantom Pain PS4 - 24,80 zł
METAL GEAR SURVIVE PS4 - 33,80 zł
METAL MAX Xeno Reborn PS4 - 126,75 zł
METAL SLUG XX PS4 - 29,40 zł
Metro Exodus: Gold Edition PS5 - 50,70 zł
MONOPOLY® Madness PS4 - 64,95 zł
Monster Energy Supercross – The Official Videogame 3 PS4 - 33,80 zł
Monster Energy Supercross – The Official Videogame 5 PS4 & PS5 - 119,60 zł
Monster Harvest PS5 - 26,70 zł
MONSTER OF THE DEEP: FINAL FANTASY XV PS4 - 62,50 zł
Morbid: The Seven Acolytes PS4 - 19,80 zł
Mortal Blitz PS4 - 26,70 zł
Mortal Kombat X PS4 - 44,50 zł
MotoGP™22 PS4 & PS5 - 119,60 zł
Murdered: Soul Suspect™ PS4 - 7,90 zł
MXGP 2021 – The Official Motocross Videogame PS4 - 80,70 zł
MXGP 2021 – The Official Motocross Videogame PS5 - 80,70 zł
My Friend Peppa Pig PS5 - 118,30 zł
MY HERO ONE'S JUSTICE PS4 - 40,46 zł
MY LITTLE PONY: A Maretime Bay Adventure PS4 - 126,75 zł
My Singing Monsters Playground PS4 - 89,50 zł
Narita Boy PS4 - 41,60 zł
NARUTO SHIPPUDEN: Ultimate Ninja STORM 2 PS4 - 21,00 zł
NARUTO SHIPPUDEN: Ultimate Ninja STORM 3 Full Burst PS4 - 21,00 zł
NARUTO SHIPPUDEN: Ultimate Ninja STORM 4 PS4 - 35,60 zł
NARUTO: Ultimate Ninja STORM PS4 - 21,00 zł
NBA 2K Playgrounds 2 PS4 - 32,25 zł
NBA 2KVR Experience PS4 - 34,50 zł
Need for Speed™ Rivals PS4 - 22,25 zł
NEO: The World Ends with You PS4 - 124,50 zł
Neptunia Virtual Stars PS4 - 65,70 zł
Neptunia x SENRAN KAGURA: Ninja Wars PS4 - 114,95 zł
Nex Machina PS4 - 21,00 zł
Nexomon: Extinction PS4 - 39,50 zł
Ni no Kuni™ II: Revenant Kingdom PS4 - 40,46 zł
Nickelodeon All-Star Brawl PS5 - 62,70 zł
NieR Replicant ver.1.22474487139… PS4 - 129,50 zł
Nippon Marathon PS4 - 14,75 zł
Nitroplus Blasterz: Heroines Infinite Duel PS4 - 22,25 zł
Oddworld: Abe's Oddysee (PS1 Emulation) PS5 - 11,25 zł
Oddworld: New 'n' Tasty (PS4™) - 16,80 zł
Of Bird and Cage PS4 - 33,75 zł
Oh My Godheads PS4 - 12,60 zł
OlliOlli World (PS4/PS5) - 88,44 zł
Olympic Games Tokyo 2020 – The Official Video Game™ PS4 - 59,15 zł
One Piece Burning Blood PS4 - 25,35 zł
ONE PIECE: PIRATE WARRIORS 4 PS4 - 43,35 zł
One Piece: Unlimited World Red – Deluxe Edition PS4 - 26,85 zł
Onechanbara Z2: Chaos PS4 - 21,80 zł
Onee Chanbara Origin PS4 - 103,05 zł
ONINAKI PS4 - 87,60 zł
Our World Is Ended. PS4 - 43,80 zł
Outbreak Gold Collection PS5 - 89,75 zł
Outbreak PS4 - 10,50 zł
Outbreak PS5 - 15,75 zł
Outbreak: Endless Nightmares Definitive Collection PS5 - 47,70 zł
Overcooked PS4 - 13,40 zł
Overpass PS4 - 51,60 zł
PAYDAY 2: CRIMEWAVE EDITION. PS4 - 15,80 zł
Persona 4 Arena Ultimax PS4 - 80,40 zł
PJ Masks: Heroes of the Night PS5 - 101,40 zł
Plants vs. Zombies: Battle for Neighborville™ PS4 - 31,00 zł
Poison Control PS4 - 67,60 zł
Prehistoric Dude PS4 - 4,50 zł
Pro Fishing Simulator PS4 - 18,90 zł
PROJECT ZERO: MAIDEN OF BLACK WATER Digital Deluxe Edition PS4 & PS5 - 186,75 zł
PROJECT ZERO: MAIDEN OF BLACK WATER PS4 & PS5 - 134,25 zł
PSYCHO-PASS: Mandatory Happiness PS4 - 32,85 zł
Punch Line PS4 - 25,35 zł
Pure Farming 2018 PS4 - 31,00 zł
Puyo Puyo™ Tetris® PS4 - 31,15 zł
Puzzletronics: Digital Infinite PS4 - 9,00 zł
R-Type® Final 2 PS4 - 84,50 zł
Rabisco+ PS4 & PS5 - 4,20 zł
Radio Squid PS4 - 4,50 zł
Raging Loop PS4 - 64,50 zł
Rainbow Moon PS4 - 13,80 zł
Raven's Hike PS4 - 7,20 zł
Reel Fishing: Road Trip Adventure PS4 - 53,60 zł
Reflection Of Mine PS4 - 6,60 zł
Remnant: From the Ashes PS4 - 67,60 zł
REMOTE LIFE PS4 & PS5 - 52,65 zł
Riddled Corpses EX PS5 - 9,00 zł
Riders Republic™ Gold Edition PS4 & PS5 - 136,91 zł
Riders Republic™ PS4 & PS5 - 95,66 zł
RIOT – Civil Unrest PS4 - 15,80 zł
Rise of the Tomb Raider: 20 Year Celebration PS4 - 24,80 zł
Rogue Legacy PS4 - 19,25 zł
ROMANCE OF THE THREE KINGDOMS XIV PS4 - 155,40 zł
Romancing SaGa 2 PS4 - 34,20 zł
ROMANCING SAGA 3™ PS4 - 44,70 zł
Root Film PS4 - 76,05 zł
Root Letter PS4 - 22,25 zł
Root Letter: Last Answer PS4 - 32,25 zł
Royal Defense Invisible Threat PS4 - 12,80 zł
RPG Maker MV PS4 - 62,70 zł
RPGolf Legends PS5 - 87,10 zł
Rugby 20 PS4 - 32,25 zł
Ruinverse PS5 - 40,95 zł
Rune Factory 4 Special PS4 - 80,40 zł
Ryan's Rescue Squad PS5 - 101,40 zł
Ryan's Rescue Squad PS5 - 101,40 zł
S.O.N PS4 - 50,40 zł
Sackboy: A Big Adventure PS4 & PS5 - 149,50 zł
SaGa Frontier Remastered PS4 - 72,80 zł
SaGa SCARLET GRACE: AMBITIONS™ PS4 - 40,20 zł
Samurai Aces III: Sengoku Cannon PS4 - 32,00 zł
Samurai Aces PS4 - 32,00 zł
SAMURAI SHODOWN NEOGEO COLLECTION PS4 - 25,35 zł
SAMURAI SHODOWN VI™ PS4 - 12,60 zł
SCARLET NEXUS PS4 & PS5 - 86,70 zł
School Girl/Zombie Hunter PS4 - 56,70 zł
Scribblenauts Mega Pack PS4 - 25,00 zł
Scribblenauts Showdown PS4 - 25,35 zł
SENRAN KAGURA Burst Re:Newal PS4 - 50,70 zł
SENSE – A CYBERPUNK GHOST STORY PS4 - 50,40 zł
Shadow Man Remastered PS4 - 52,65 zł
Shadow of Loot Box PS4 - 3,60 zł
Shadowrun Trilogy PS4 & PS5 - 143,20 zł
Sherlock Holmes: Crimes and Punishments PS4 - 33,80 zł
Shining Resonance Refrain PS4 - 31,00 zł
Skeletal Avenger PS5 - 30,80 zł
Skyrim Anniversary Edition + Fallout 4 G.O.T.Y Bundle PS5 - 155,60 zł
Slaycation Paradise PS4 - 71,20 zł
Slaycation Paradise PS5 - 71,20 zł
Sniper Elite 5 PS4™ & PS5™ - 181,30 zł
Sniper Ghost Warrior Contracts 2 Elite Edition PS5 - 84,50 zł
SNK 40th ANNIVERSARY COLLECTION PS4 - 84,50 zł
SNK HEROINES Tag Team Frenzy PS4 - 109,50 zł
SOL DIVIDE -SWORD OF DARKNESS- PS4 - 32,00 zł
Solo: Islands of the Heart PS4 - 16,80 zł
Song Of Memories PS4 - 29,80 zł
Songbird Symphony PS4 - 11,80 zł
Sonic Colours: Ultimate PS4 - 101,40 zł
SONIC FORCES™ PS4 - 42,25 zł
Sonic Mania PS4 - 44,50 zł
Space KaBAAM 3 PS5 - 6,75 zł
Sparklite PS4 - 19,80 zł
Spectrewoods PS4 - 0,57 zł
Spirit Hunter: Death Mark PS4 - 87,60 zł
Spirit Hunter: NG PS4 - 109,50 zł
Spirit of the North: Enhanced Edition PS5 - 34,65 zł
STAR WARS Jedi: Fallen Order™ PS5 - 41,80 zł
STAR WARS™ Battlefront™ II PS4 - 43,50 zł
STAR WARS™ Episode I Racer PS4 - 31,50 zł
STAR WARS™ Jedi Knight II: Jedi Outcast™ PS4 - 21,00 zł
STAR WARS™ Jedi Knight: Jedi Academy PS4 - 49,50 zł
STAR WARS™ Republic Commando™ PS4 - 31,50 zł
STAR WARS™: Squadrons PS4 - 42,25 zł
SteinsGate 0 PS4 - 21,80 zł
Stellaris: Console Edition – Standard Edition PS4 - 33,80 zł
STORY OF SEASONS: Friends of Mineral Town PS4 - 84,50 zł
STORY OF SEASONS: Pioneers of Olive Town PS4 - 118,30 zł
Stranded Sails – Explorers of the Cursed Islands PS4 - 29,70 zł
Stranded Sails: Explorers of the Cursed Islands PS5 - 32,70 zł
STRANGER OF PARADISE FINAL FANTASY ORIGIN PS4 & PS5 - 202,30 zł
Strawberry Vinegar PS4 - 9,00 zł
Street Fighter V PS4 - 19,75 zł
STRIKERS 1945 II PS4 - 32,00 zł
STRIKERS 1945 III PS4 - 32,00 zł
STRIKERS 1945 PS4 - 32,00 zł
Sublevel Zero Redux PS4 - 15,80 zł
Super Cane Magic ZERO PS4 - 68,40 zł
Super Monkey Ball Banana Mania Digital Deluxe Edition PS4 & PS5 109,50 zł
Super Neptunia™ RPG PS4 - 38,70 zł
Super Onion Boy 2 PS4 & PS5 - 9,00 zł
SURVIVE! MR.CUBE PS4 - 11,80 zł
Sword & Fairy 6 PS4 - 24,40 zł
Sword of Elpisia PS5 - 48,30 zł
Sword of the Necromancer PS5 - 34,50 zł
Synergia PS4 - 37,80 zł
Tales of Arise PS4 & PS5 - 144,50 zł
Tales of Berseria PS4 - 39,50 zł
Tango Fiesta PS4 - 8,40 zł
TARZAN VR™ PS4 - 91,20 zł
Tears of Avia PS4 - 41,40 zł
Teenage Mutant Ninja Turtles: Shredder's Revenge PS4 - 87,20 zł
TENGAI PS4 - 32,00 zł
Terraria – PlayStation®4 Edition PS4 - 34,50 zł
The 25th Ward: The Silver Case PS4 - 32,25 zł
The Addams Family: Mansion Mayhem PS4 - 101,40 zł
The Alliance Alive HD Remastered PS4 - 73,15 zł
The Angry Birds Movie 2 VR: Under Pressure PS4 - 34,50 zł
The Bard's Tale: Remastered and Resnarkled PS4 - 32,40 zł
The Caligula Effect 2 PS4 - 109,50 zł
The Caligula Effect: Overdose PS4 - 73,15 zł
The Centennial Case : A Shijima Story PS4&PS5 - 148,85 zł
The Count Lucanor PS4 - 11,80 zł
The Cruel King and the Great Hero PS4 - 90,30 zł
The Dark Pictures Anthology – Triple Pack PS4 & PS5 - 142,45 zł
The Dark Pictures Anthology: House of Ashes PS4 & PS5 - 64,50 zł
The Dwarves PS4 - 25,35 zł
The Elder Scrolls V: Skyrim Anniversary Edition – PS5 & PS4 - 119,50 zł
The Great Ace Attorney Chronicles PS4 - 110,98 zł
THE KING OF FIGHTERS '98 ULTIMATE MATCH FINAL EDITION PS4 - 34,50 zł
THE KING OF FIGHTERS 2000™ PS4 - 8,40 zł
THE KING OF FIGHTERS™ 'COLLECTION: THE OROCHI SAGA PS4 - 12,60 zł
The Language Of Love PS4 - 13,50 zł
The Legend of Heroes: Trails of Cold Steel IV PS4 - 116,55 zł
The LEGO Movie 2 Videogame PS4 - 42,25 zł
The Long Reach PS4 - 11,80 zł
The Mage's Tale PS4 - 73,70 zł
The Midnight Sanctuary PS4 - 22,50 zł
The Quarry – Deluxe Edition for PS4™ & PS5™ - 260,63 zł
THE QUIET MAN™ PS4 - 12,60 zł
The Seven Deadly Sins: Knights of Britannia PS4 - 57,80 zł
The Sinking City PS5 Deluxe Edition - 80,70 zł
The Unicorn Princess PS4 - 22,25 zł
The Walking Vegetables: Radical Edition PS4 - 10,80 zł
The Witch and the Hundred Knight 2 PS4 - 52,25 zł
The Witcher 3: Wild Hunt – Game of the Year Edition PS4 - 39,80 zł
The Witcher 3: Wild Hunt PS4 - 25,80 zł
The Wonderful 101: Remastered PS4 - 85,05 zł
This Is the Police 2 PS4 - 18,60 zł
This is the Police PS4 - 11,85 zł
This War of Mine: Final Cut PS5 - 66,75 zł
Thomas Was Alone PS4 - 7,20 zł
Thronebreaker: The Witcher Tales PS4 - 25,20 zł
Thunderflash PS4 & PS5 - 4,20 zł
Tin & Kuna PS4 - 49,50 zł
TINY METAL PS4 - 31,50 zł
Tiny Tina's Wonderlands for PS4™ - 207,03 zł
Tokyo Dark – Remembrance – PS4 - 40,50 zł
TOKYO GHOUL:re [CALL to EXIST] PS4 - 43,35 zł
Tokyo Xanadu eX+ PS4 - 51,80 zł
Tom Clancy's Rainbow Six® Extraction United Bundle PS5 - 150,00 zł
Tony Hawk's™ Pro Skater™ 1 + 2 – Cross-Gen Deluxe Bundle PS5 - 114,50 zł
Torchlight II PS4 - 42,00 zł
Torchlight III PS4 - 42,25 zł
Toto Temple Deluxe PS4 - 24,50 zł
UNBOX: NEWBIE'S ADVENTURE PS4 - 19,80 zł
UNDER NIGHT IN-BIRTH Exe:Late[st] PS4 - 32,70 zł
Unravel Two PS4 - 25,20 zł
Utawarerumono: Prelude to the Fallen PS4 - 99,60 zł
Utawarerumono: ZAN PS4 - 103,60 zł
Valkyria Chronicles Remastered PS4 - 31,15 zł
Valthirian Arc: Hero School Story PS4 - 11,80 zł
Vaporum PS4 - 37,50 zł
Vengeful Heart PS5 - 31,50 zł
Voice of Cards: The Forsaken Maiden PS4 - 93,80 zł
Voice of Cards: The Isle Dragon Roars PS4 - 87,50 zł
void TRRLM(); //Void Terrarium PS4 - 43,60 zł
void tRrLM();++ //Void Terrarium++ PS5 - 67,60 zł
VR Ping Pong Pro PS4 - 19,80 zł
VR Ping Pong PS4 - 12,60 zł
War Tech Fighters PS4 - 48,60 zł
Wargroove PS4 - 34,00 zł
Warhammer 40,000: Inquisitor – Martyr PS4 - 25,35 zł
Warhammer: Chaosbane Slayer Edition PS5 - 64,75 zł
WARRIORS OROCHI 3 Ultimate PS4 - 65,40 zł
Wasteland™ 2: Director's Cut PS4 - 73,53 zł
Werewolves Within PS4 - 40,20 zł
Wild Guns™ Reloaded PS4 - 35,60 zł
Wizards of Brandel PS4 - 34,50 zł
WORLD OF FINAL FANTASY® PS4 - 39,60 zł
WORLDEND SYNDROME PS4 - 42,25 zł
Wreckfest PlayStation®5 Version PS5 - 84,50 zł
Wreckfest: Drive Hard. Die Last. PS4 - 51,60 zł
XCOM® 2 PS4 - 25,90 zł
Xenon Valkyrie+ PS5 - 6,75 zł
Xuan Yuan Sword 7 PS4 - 131,40 zł
Yakuza: Like a Dragon Hero Edition PS4 & PS5 - 105,00 zł
Yakuza: Like a Dragon PS4 & PS5 - 103,60 zł
Yoku's Island Express PS4 - 15,80 zł
Yomawari: Midnight Shadows PS4 - 55,80 zł
Yonder: The Cloud Catcher Chronicles PS5 - 51,60 zł
Ys IX: Monstrum Nox PS4 - 129,50 zł
Ys VIII: Lacrimosa of DANA PS4 - 99,60 zł
Ys: Memories of Celceta PS4 - 64,50 zł
ZERO GUNNER 2- PS4 - 32,00 zł
Źródło: lowcygier